Medical Reserve Corps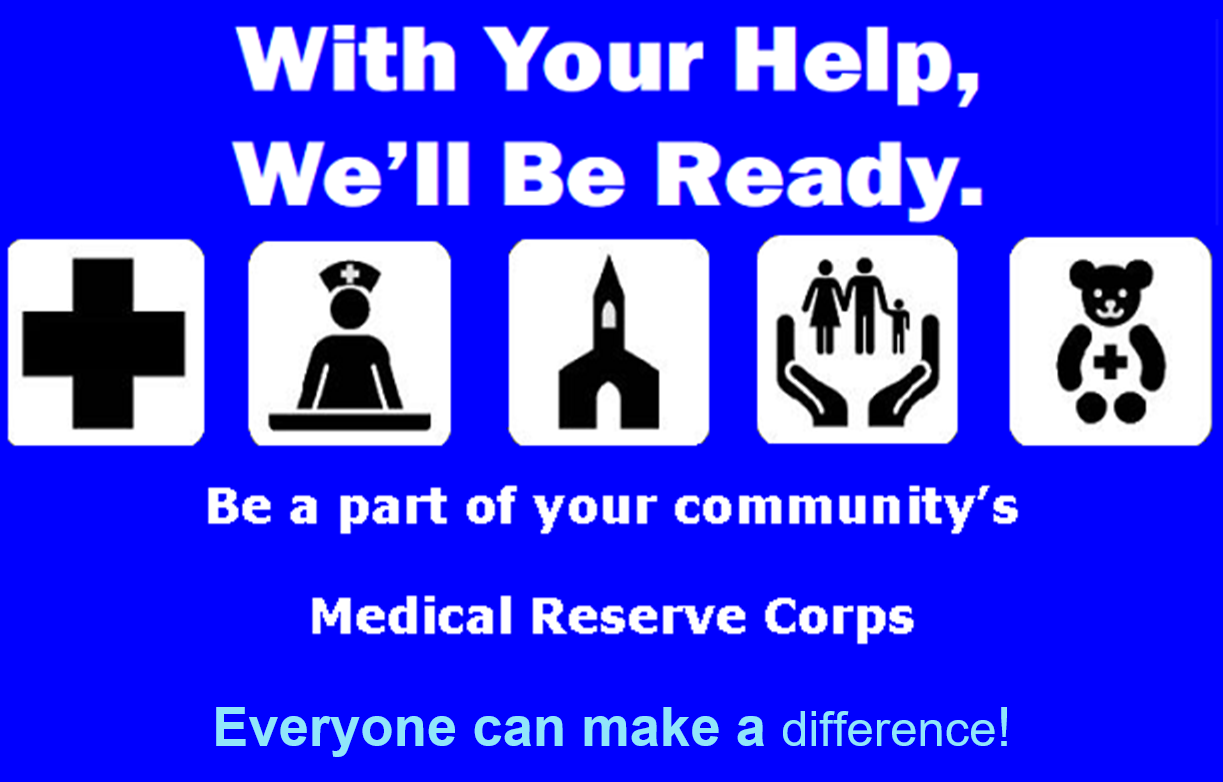 As a member of the MRC, you receive free training on emergency preparedness and other public health issues. Serve your community…and more…. Learn new skills…Meet people…Start on a career path.
CONTACT: Kate Meyer, MRC Coordinator
(309) 558-2945
kmeyer@rockislandcountyil.gov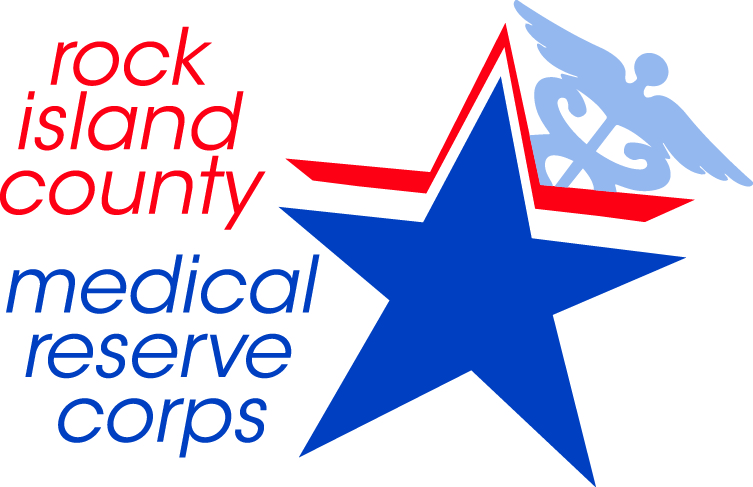 Types of Volunteers Needed
Interpreters/Translators
Managers/Administrators
Clergy/Chaplains
Ham radio operators
Computer technicians
Legal advisors
Information collectors
Inventory controllers
Supplies checkers/handlers
General helpers
EMT/Paramedics
Community health workers
Mental health workers
Nurses/CNAs
Pharmacy professionals
Veterinarians
Dental health workers
Physicians/PAs
Medical assistants
Teachers
The Medical Reserve Corps (MRC) was founded by the federal government shortly after 9/11 to bring together volunteers who are committed to improving the health, safety, and resiliency of their communities. Medical and non-medial volunteers are trained and prepared to respond to emergencies and public health issues decided by each unit. MRC volunteers may choose to be involved in education, outreach, committee work, and various health services throughout the year.
The objective of the MRC program is to strengthen communities by establishing a system for medical, public health and various volunteers to offer their knowledge, skills and connections throughout the year and during times of community need.
Volunteers are needed including health professionals, interpreters, chaplains, amateur radio operators, logistical helpers, legal advisors, and anyone willing to help out, because everyone can make a difference!
MRC units support existing emergency and public health resources and agencies such as local public health, hospitals, fire, police, and ambulance services in a joined effort to prepare and respond to large scale public health crises. Members can also choose to support communities in need in other areas of the state or country, as many did during hurricanes Katrina and Rita.
What Do Medical Reserve Corps Volunteers Do?
MRC volunteers work with existing local emergency response programs
MRC volunteers support local emergency response activities, such as:

Shelter/alternate care facility staffing
Hospital surges
Mass prophylaxis clinic staffing

MRC volunteers support community preparedness activities, such as:

Dispensing clinic exercises
Mass casualty exercises
Personal preparedness education

MRC volunteers support local public health initiatives, such as:

COVID-19 and Flu vaccination clinics
Outreach and prevention (e.g., West Nile virus, severe acute respiratory syndrome, HIV/AIDS, sexually transmitted diseases, smoking, substance abuse, diabetes detection, cardiac rehabilitation and screening, physical fitness, domestic violence, injury, vehicle safety, women's health, and prostate and other cancers)
Immunization programs (e.g., childhood diseases, influenza, smallpox)
Blood drives
Contact tracing, case management and care planning (for families, special needs populations, high-risk infants, adolescents, the elderly, women, and others)
Pandemic influenza planning
CONTACT Kate Meyer, kmeyer@rockislandcountyil.gov