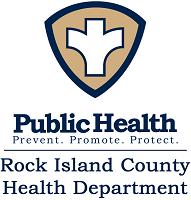 Vaccination clinics now require registration; link available below
Only Moderna will be available at vaccination clinics, for second doses you must be at least 28 days from your first dose.
For those who may not have access to computers or internet, or may need assistance signing up, Alternatives for the Older Adult has set up a Vaccine Support Center. The toll free phone number is 1-833-382-1314.
2nd Dose Clinic – Link: This link closed at 3 p.m. on February 25, 2021

1st Dose Clinic – (TBA) Link:
https://www.signupgenius.com/go/10C0F44ACAA2FA57-1stdose2
Please complete consent form prior to coming to the clinic:
Please do not call the health department to schedule your time interval. If you require a wheelchair, please bring it with to the clinic. There will be parking lot attendants to further assist you into the building.
Ways to register for vaccine:
Rock Island County Health Department: Link goes live on our Facebook page and at our website: richd.org
Jewel Osco: albertsons.com/covidclinic
Community Health Care: Complete form on CHCQCA.org to be added to waitlist
Alternatives for the Older Adult has set up a Vaccine Support Center. The toll free phone number is 1-833-382-1314.
As a reminder, Illinois is vaccination Phase 1A (healthcare workers) and Phase 1B: frontline essential workers. Proof of identity, age and employment eligibility will be required to receive the vaccine.
Update 2/25/21 Group 1B has been expanded to include individuals with the following conditions:
Obesity
Diabetes
Pulmonary Diseases
Smoking
Heart Conditions
Chronic Kidney Disease
Cancer
Solid Organ Transplant
Sickle Cell Disease
Pregnancy
Persons with a Disability who do not otherwise have an Eligible Condition – For this purpose, persons with a disability is defined as a "person who is, and who is expected to indefinitely continue to be, subject to any of the following five types of disabilities: physical disability, developmental disability, visual disability, hearing disability, or mental disability." This definition is aligned with Illinois Statute: 15 ILCS 335/4a.
Phase 1B groups include:
Residents 65 and older (different from federal recommendation of age 75 and older)
Frontline essential workers, defined as those workers who are essential for the functioning of society: The state listed several groups as being in Phase 1B, but officials said this is not an exhaustive list:
First responders: Fire, law enforcement, 911 workers, security personnel, school officers
Education: Teachers, principals, student support, student aides, day care worker
Food and agriculture: Processing, plants, veterinary health, livestock services, animal care
Manufacturing: Industrial production of goods for distribution to retail, wholesale or other manufacturers
Corrections workers and inmates: Jail officers, juvenile facility staff, workers providing in-person support, inmates
U.S. Postal Service workers
Public transit workers: Flight crews, bus drivers, train conductors, taxi drivers, para-transit drivers, in-person support, ride-sharing services
Grocery store workers: Baggers, cashiers, stockers, pickup, customer service
Shelters and day care staff: Homeless shelter, women's shelter, adult day/drop-in program, sheltered workshop, psycho-social rehab
IDPH has yet to set groups beyond Phases 1A and 1B. We will tell you when it does.
There will be no out-of-pocket cost to receive the COVID-19 at a RICHD drive-through COVID-19 vaccination clinic. Other providers may charge an administrative fee that could be billed to insurance, Medicare or Medicaid.
Total number of positive COVID-19 cases reported to Rock Island County Health Department:    12,905**    Deaths:  304
**Numbers Reported Daily
Upcoming IDPH COVID-19 drive through test site dates at the TaxSlayer Center:
Monday March 15 8am – 4pm
Monday March 22 8am – 4pm
Monday March 29 8am – 4pm
Vaccine 101:
Do both doses of the vaccine have to come from the same vaccine?
Yes, both doses must be of the same vaccine. The vaccines cannot be interchanged. As individuals are given their first dose of vaccine, the vaccine manufacturer and other information is recorded in the state's immunization registry for future use.
What reaction should I expect after getting the vaccine?
The vaccine does not cause someone to get sick with COVID-19. Vaccines teach our immune systems how to recognize and fight the virus that causes COVID-19. Sometimes this process can cause symptoms, such as a sore arm, headache, chills or fever. These symptoms are normal and are signs the body is building immunity.
You can expect side effects to go away without complication or injury within about a day or two. Remember, these are signs that your immune system is responding to the vaccine and building immunity.
I already had COVID-19, should I still get the vaccine?
Not enough is known about how long natural immunity lasts for those that have recovered from the virus. The CDC is still learning more about natural immunity to COVID-19. The CDC Advisory Committee on Immunization Practices (ACIP) will make recommendations to CDC on who should get a COVID-19 vaccine.
The vaccine can increase your protection from the virus.
I'm healthy. Why do I need to be vaccinated?
While you may be healthy, many individuals in our community have risk factors for getting serious complications from COVID-19 infection. Getting a COVID-19 vaccination protects you so you may protect others around you as well.
I'm nervous about getting the vaccine. What should I do?
It's normal to be nervous about something new and to have questions. We encourage you to ask questions and get answers to your questions from reliable sources. We recommend looking for information from the CDC, the FDA (Food and Drug Administration), both state health departments, and our local health departments.
As it gets closer to the time when the vaccine may be available for you, your healthcare provider will also be a great resource to talk with about the COVID-19 vaccine.
Once I receive the vaccine, will I still need to wear a mask and social distance?
We will still need to wear masks and practice physical distancing until a large proportion of the population is vaccinated and we are sure the vaccine provides long-term protection. Initially, we will not have enough vaccine to vaccinate everyone who wants the vaccine and the virus still will be transmitted.
What can you tell us about the new method of vaccine being used, called mRNA vaccines?
They cannot give someone COVID-19.
mRNA vaccines do not use the live virus that causes COVID-19.
They do not affect or interact with our DNA in any way.
mRNA stimulates the body's cells to produce a protein that looks like the COVID virus to our immune system. This kickstarts the product of antibodies that fight the actual virus.
mRNA never enters the nucleus of the cell, which is where our DNA (genetic material) is kept.
The cell breaks down and gets rid of the mRNA soon after it does its job.
When will children be given the vaccine?
The Moderna vaccine has included children in its clinical trials. We expect more information about results when the Moderna vaccine receives emergency use authorization from the FDA. This could be as early as next week.
If a pediatric vaccine is approved, children will be prioritized along with all of other groups. Some may fit in with other groups, including those with chronic disease, essential workers, etc.
Sources for these answers
If you were tested at the Camden Center, QCCA Expo Center or TaxSlayer Center test site, you can get results by: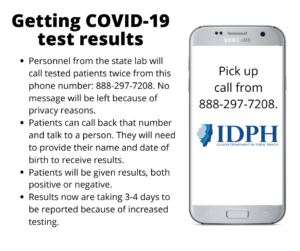 COVID-19 Media Briefing 3-3-21
COVID-19 Media Briefing 3-2-21
COVID-19 Media Briefing 3-1-21
COVID-19 Media Briefing 2-28-21
COVID-19 Media Briefing 2-27-21
COVID-19 Media Briefing 2-26-21
COVID-19 Media Briefing 2-25-21
COVID-19 Media Briefing 2-24-21
COVID-19 Media Briefing 2-23-21
COVID-19 Media Briefing 2-22-21
COVID-19 QC Coalition Media Briefing 2-18-21
COVID-19 QC COALITION MEDIA BRIEFING 02-09-21
For County Level COVID-19 Risk Metrics, visit www.dph.illinois.gov/countymetrics
The Illinois Department of Public Health (IDPH) in coordination with the Illinois Poison Control Center have launched the Illinois COVID-19 Hotline and email address to answer questions clinicians and the general public may have regarding COVID-19.
Illinoisans can dial 1-800-889-3931 twenty-four hours a day, seven days a week or email DPH.SICK@ILLINOIS.GOV to get their questions answered.
---
More information
---
Other important news from the WIC office: WIC is not affected by recent Federal public benefit policy. Click here for more information: WICpublicchargeFAQ013120
WIC is here for you during COVID-19 (English)
WIC is here for you during COVID-19 (Spanish)
About the Rock Island County Health Department
Rock Island County Health Department prevents disease, promotes wellness of mind and body, protects public health and prepares for emergencies. To learn more visit or call us at 309-793-1955.